A Strong Finish for TOYOTA GAZOO Racing in Germany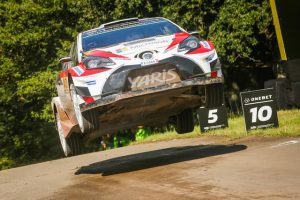 TOYOTA GAZOO Racing World Rally Team enjoyed a great final day on Rallye Deutschland with two more stage wins, taking its total this weekend to five and demonstrating the progress that the team is making with the Yaris WRC on asphalt. Juho Hänninen took his second stage win of the event as he finished a superb fourth overall. Jari-Matti Latvala finished seventh, while Esapekka Lappi also scored a stage win to end his challenging event on a high note.
Car 11 (Juho Hänninen, Kaj Lindström)
Hänninen began the day by winning the Losheim am See stage to lift him up into fourth place, a position which he then cemented over the final three tests. It completed a great performance from Hänninen on a rally he last contested in 2011. On the next stage, St. Wendeler Land, Lappi took a satisfying stage win. The Rally Finland winner had been forced to retire from the opening leg after damaging his car's suspension and then struggled for
speed after restarting yesterday, but he carefully analysed his performance overnight and made a clear improvement. Latvala, who won two stages himself earlier in the rally but was delayed by a technical issue, made it a Toyota one-two on the stage. Lappi and Latvala later finished second and third on the rally-ending Power Stage to claim four and three bonus points respectively, with Lappi missing out on the win by only 0.2 seconds.
Quotes:
Tommi Mäkinen (Team Principal)
"I am very pleased with our performance on this rally. It could have been even more but for the issue for Jari-Matti on Friday. At the beginning of the rally he had good speed and he could easily have fought for the win. Today was a very good day for us. Especially for Esapekka, he made a good improvement. Today was very important day for him to improve his confidence for this kind of condition. And now I'm really sure that Esapekka is ready to come here next year for fighting. Juho did generally a very excellent drive with fast stage times, and very close to be fighting for the podium. We are confident now that the performance on tarmac is also at a good level. It's looking good now
for the future. Now we will go to Spain where we again should improve our performance."
Jari-Matti Latvala (Driver car 10)
"In the first stage this morning I was a little bit slow; I wasn't quite awake yet. The second one went really well. I liked the stage and I had a good feeling about it going into the Power Stage. Unfortunately I had a touch in a left-hand corner very early in the stage, and I didn't push because I was afraid I had a puncture. Still, it's nice to get some points after the problem earlier in the rally."
Juho Hänninen (Driver car 11)
"I'm very happy with this result. I lost a lot of time on the first day, but after that it has been good. The car has been great and the feeling has been good. I could enjoy pushing this morning, and then I backed off a bit. It's very positive, especially if you compare it to the first part of the season."
Esapekka Lappi (Driver car 12)
"We did a lot of analysis last night and found things that I was doing wrong, and today was a lot better. The second stage was really good. On the next one I went off because I braked too late, and the engine stalled. On the Power Stage I was really lucky, I had a big moment. But we must be happy with the speed we had today."
FINAL RESULT, RALLYE DEUTSCHLAND:
1 Ott Tanak / Martin Jarveoja (Ford Fiesta WRC) 2h57m31.7s
2 Andreas Mikkelsen / Anders Jaeger (Citroen C3 WRC) +16.4s
3 Sebastien Ogier / Julien Ingrassia (Ford Fiesta WRC) +30.4s
4 Juho Hänninen / Kaj Lindström (Toyota Yaris WRC) +1m49.2s
5 Craig Breen / Scott Martin (Citroen C3 WRC) +2m01.5s
6 Elfyn Evans / Daniel Barritt (Ford Fiesta WRC) +2m03.4s
7 Jari-Matti Latvala / Miikka Anttila (Toyota Yaris WRC) +3m58.2s
8 Hayden Paddon / Seb Marshall (Hyundai i20 Coupe WRC) +4m32.4s
9 Armin Kremer / Pirmin Winklhofer (Ford Fiesta WRC) +10m19.4s
10 Eric Camilli / Benjamin Veillas (Ford Fiesta R5) +10m44.3s
21 Esapekka Lappi / Janne Ferm (Toyota Yaris WRC) +18m05.2s
2017 FIA WORLD RALLY CHAMPIONSHIP FOR DRIVERS AFTER ROUND 10:
1 Sebastien Ogier 177
2 Thierry Neuville 160
3 Ott Tanak 144
4 Jari-Matti Latvala 123
5 Dani Sordo 89
6 Elfyn Evans 87
7 Craig Breen 64
8 Juho Hänninen 58
9 Hayden Paddon 55
10 Esapekka Lappi 49
2017 FIA WORLD RALLY CHAMPIONSHIP FOR MANUFACTURERS AFTER ROUND 10:
1 M-Sport World Rally Team 325
2 Hyundai Motorsport 261
3 TOYOTA GAZOO Racing WRT 213
4 Citroen Total Abu Dhabi World Rally Team 163
(Results as of 13:00 on Sunday, for the latest results please visit www.wrc.com)
OBJECTIFS ATTEINTS POUR CITROËN EN ALLEMAGNE
Un podium pour Andreas Mikkelsen / Anders Jæger et une seconde C3 WRC dans le top 5 grâce à Craig Breen / Scott Martin : en Allemagne, Citroën Total Abu Dhabi WRT a atteint les objectifs fixés par Yves Matton avant le départ.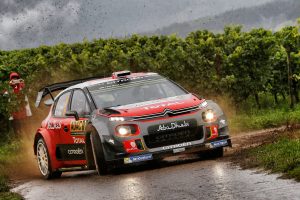 LE FILM DE LA COURSE
Jeudi soir, l'ADAC Rallye Deutschland débutait par une super spéciale dans les rues de Sarrebruck. Sur un parcours inadapté aux larges World Rally Cars, Kris Meeke était la principale victime de la soirée. Après avoir touché un mur de béton, le Britannique était contraint de s'arrêter, direction cassée. Il pouvait repartir le lendemain, mais avec dix minutes de pénalité vertu des règles du Rally2.
Vendredi, la première étape était majoritairement disputée sur les routes escarpées du vignoble bordant la Moselle. Malgré un ordre de départ défavorable, Andreas Mikkelsen se mêlait immédiatement à la lutte en tête. En signant le meilleur temps de l'ES4, le Norvégien prenait les rênes du classement général.
Tombée avec parcimonie le matin, la pluie s'intensifiait pour le second passage dans les spéciales. Malgré l'utilisation des pneus Michelin Pilot Sport « full wet », Andreas Mikkelsen ne pouvait résister aux assauts d'Ott Tänak, qui prenait la tête à l'issue de l'ES7. En fin de journée, les deux premiers n'étaient séparés que de 5''7.
Peu à l'aise en passant sur un terrain qu'il connaissait encore peu, Craig Breen commettait plusieurs petites erreurs au cours de la journée. Derrière Neuville, Ogier, Evans et Hänninen, l'Irlandais occupait la septième place à l'issue de cette première journée.
Samedi, l'itinéraire du rallye emmenait les concurrents au cœur du camp militaire de Baumholder. Lors du premier passage dans la fameuse spéciale de Panzerplatte, Mikkelsen perdait du terrain sur Tänak à cause d'un choix de pneus trop conservateur. Andreas commettait ensuite quelques petites erreurs, qui permettaient à Sébastien Ogier de refaire une partie de son retard !
À l'attaque lors du second passage dans Panzerplatte, le pilote de la C3 WRC réalisait le deuxième chrono pour maintenir la pression sur Tänak et reprendre un peu d'air sur Ogier…
Craig Breen réalisait une meilleure journée que celle de la veille, notamment au second passage avec des choix de pneus plus constants. Grâce aux différents faits de course, il remontait en sixième position, à moins de vingt secondes d'Evans et Hänninen.
En revanche, la course de Kris Meeke s'arrêtait définitivement après l'ES14. Alors qu'il avait retrouvé un rythme dans le sillage de celui des leaders, le Britannique rencontrait un problème mécanique dans la périphérie moteur.
Dimanche, il ne restait que quatre spéciales pour figer le classement. Toujours à l'attaque, Mikkelsen décrochait Ogier… tout en se rapprochant légèrement de Tänak. Les positions n'évoluaient pas jusqu'à l'arrivée et c'est bien à la deuxième place que terminait la C3 WRC n°9.
Dans le même temps, Craig Breen sonnait la charge en revenant à grandes enjambées sur Elfyn Evans. Il coiffait son rival sur le poteau d'arrivée de la Power Stage, étoffant ainsi sa collection de cinquièmes places !
QUESTIONS À YVES MATTON, DIRECTEUR DE CITROËN RACING
Les objectifs fixés ont-ils été atteints en Allemagne ?
« Avant le départ, j'avais demandé aux pilotes de trouver un niveau d'attaque leur permettant de se mêler à la lutte en tête. Une certaine prise de risques était rendue nécessaire par les prévisions météo et nos ordres de départ défavorables pour la première étape. En filigrane, nous visions un podium et un top 5 avec une seconde voiture. À l'arrivée, le résultat est donc tout à fait conforme à nos attentes. »
Comment jugez-vous la prestation d'Andreas Mikkelsen, pour son troisième rallye au volant de la Citroën C3 WRC ?
« Lors des essais préliminaires à ce rallye, Andreas avait été enthousiasmé par le potentiel de la voiture sur asphalte. Malgré son manque d'expérience avec la C3 WRC sur cette surface, il s'est immédiatement placé parmi les prétendants à la victoire. Comme nous lui avions demandé, il a su trouver le bon niveau d'attaque pour rouler vite. Dans le même temps, je suis satisfait qu'il ait enfin dompté la spéciale de Panzerplatte. Il redoutait ce secteur, mais nous avons réussi à le mettre en confiance en lui apportant toute l'expérience de Citroën Racing. Je suis ravi que l'échange ait fonctionné dans les deux sens. »
Craig Breen semble abonné à la cinquième place : cela vous satisfait-il ?
« Après une saison prometteuse en 2016, Craig confirme qu'il a sa place au plus haut niveau du rallye mondial. Cette série de six cinquièmes places démontre sa capacité à gérer les courses sur la durée. Ce week-end, il ne disputait le Rallye d'Allemagne que pour la troisième fois. Ce déficit d'expérience, conjugué aux conditions météo variables, l'a conduit à commettre quelques erreurs en début de course. Mais il est passé au travers des gros pièges pour aller chercher ce top 5 qui participe à l'atteinte de nos objectifs. »
Le week-end de Kris Meeke a été plus difficile…
« Avant même le véritable départ du rallye, il était déjà à dix minutes du leader à cause d'une erreur qu'il a qualifiée de stupide. Je trouve également que le tracé de cette spéciale était totalement inadapté aux WRC 2017 ! Ensuite, je comprends qu'il était difficile pour lui de trouver la motivation nécessaire pour se mettre dans le rythme des premiers. La journée de vendredi a été difficile, mais il s'est montré performant dans les spéciales du camp militaire le lendemain. Malheureusement, sa course s'est arrêtée à cause d'un problème mécanique et l'abandon a été définitif car nous risquions de casser le moteur. Cela aura permis à Paul Nagle de rentrer plus tôt pour faire connaissance avec son fils, né samedi. »
De nombreuses rumeurs circulent au sein du parc d'assistance concernant le marché des pilotes. Comment vous positionnez-vous dans ce domaine ?
« Ce n'est un secret pour personne : nous entrons dans une période de forte activité sur le marché des transferts. Comme pour le développement de la voiture, la priorité est de préparer 2018. Au moment où le calendrier du WRC fait une pause, nous allons profiter du mois de septembre pour établir notre stratégie. Pour ce faire, nous discutons avec tous les pilotes qui pourraient nous aider à atteindre nos objectifs. Pour l'instant, il n'y a rien de formel. »
AUGUST 21, 2017 – HYUNDAI
HYUNDAI MOTORSPORT – WRC, RALLY GERMANY 2017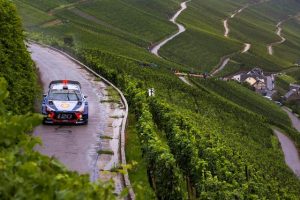  #hyundai Motorsport has finished its home event, #rallyedeutschland, in a disappointing eighth place after a demanding weekend
 Dramas for all three crews prevented the team from mounting a stronger challenge despite showing glimpses of pace with six stage wins in total
 #danisordo took the maximum five points in the rally-concluding Power Stage, offering some consolation for the Spaniard ahead of his home #rally.
Bostalsee, Germany August 20, 2017 – #hyundai Motorsport heads into the six-week break with clear intentions to refocus on its championship campaign after a tough weekend in #rallyedeutschland, the tenth round of the 2017 FIA World #rally Championship (WRC). Despite being a home #rallyfor the Alzenau-based squad, and a happy hunting ground for results in the past three seasons, none of the team's three crews have had cause for celebration this weekend. Hayden Paddon and Seb Marshall were the highest placed #hyundai Shell Mobis World #rally Team pair, down in eighth place. #danisordo and Marc Martí were put out of contention early on Friday morning after rolling down a bank, and forced to start again under #rally 2 on Saturday. #thierryneuville and Nicolas Gilsoul also had to make use of #rally 2 to re-join on Sunday morning, after their #rally was brought to a sudden halt on Saturday's opening stage. All in all, It was an unrepresentative weekend for #hyundai Motorsport overall, although it ended on a positive as Sordo claimed Power Stage victory and five extra points towards his drivers' championship total. That result saw Sordo take a total of five stage wins, equal with #rally winner Ott Tanak. Crew Notes: Paddon/Marshall (#4 #hyundai i20 Coupe WRC) Paddon and Marshall suffered two separate punctures over the weekend, which cost them time on Friday and Saturday. In their fifth event together, the crew continued to push and were rewarded with a handful of top-three times later in the #rally, including second in Sunday's SS20 (Losheim am See). Paddon said: "When conditions were more consistent, we showed some improvement in performance compared to last year, so there are some positives to take away from this tough weekend. I knew this would be one of the hardest rallies of the season, so I am pleased that we made it to the end, and showing better stage times. I am going back home to NZ for a month, during which I will also take part in a few gravel rallies, so I am looking forward to that. Then, it's back to Europe when we will begin our push for a good result to finish the season." Crew Notes: Sordo/Martí (#6 #hyundai i20 Coupe WRC) For Sordo and Martí, their hopes of a third podium of the season were ruined after an off on Friday morning. However, the Spaniards showed improved performance on Saturday, including three stage wins, and ending the #rally with Power Stage victory on Sunday.