Fernando Alonso was forced to retire with transmission problems from this afternoon's Monaco Grand Prix, bringing an early end to a drive that looked set to yield more world championship points for the McLaren team.
It was a bitter blow: the Spaniard had run competitively inside the top 10 for his whole race and looked destined to claim a well-deserved seventh position at the chequer. He rolled to a smokey halt at Ste Devote on lap 53.
Starting from 12th position,Stoffel always faced a difficult afternoon. A slightly longer than normal pit-stop and a mid-race flat-spot delayed him, but he kept it on the road to finish 14th.
Despite the no-score, the team retains fifth position in the constructors' championship, with 40 points.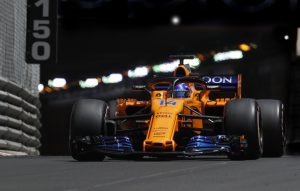 Started 12th

Finished 14th

Fastest lap 1m16.864s on lap 76 (+2.604s, 11th)

Pit-stops Two: laps 20 (5.1s) and 72 (4.1s) [Prime/Back-Up/Option]
"This was a disappointing race for me.

"The first stint was really tough – I'd started on the Ultrasoft and was looking to run longer than the Hypersoft runners, but I had too much degradation and couldn't manage it. Then I lost a lot of time at my first pit-stop, and that also lost me track position.

"My final stint – on the Hypersoft – was a bit quicker, and I could take the fight to the cars in front, but obviously Monaco is no place at which to overtake.

"We were expecting more, but I still think we've taken a step forward with our qualifying pace. But I think we need to really focus on improving our car performance so we're better placed to score points."