AusGP
Stoffel Vandoorne earned McLaren-Honda its first race finish of the season in today's Australian Grand Prix, coming home in 13th position.
His team-mate Fernando Alonso looked set for an unexpected points finish, running strongly in 10th position before bodywork damage dropped him out of the top 10 and caused him to retire the car in the pits.
After a difficult winter, there are plenty of positives to take away from the opening race weekend of the year, and the whole team will be pushing to make further improvements ahead of next month's Chinese Grand Prix. 
Fernando Alonso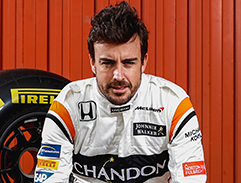 #FA14  MCL32-03
Started 12th (due to Ricciardo's five-place gearbox penalty)
Finished DNF – bodywork damage (50 laps)
Fastest lap 1m30.077s on lap 48 (+3.539s, 17th)
Pit-stops One: lap 16 (3.46s) [Option/Prime]
"In terms of driving, I probably had one of my very best races today. I was able to drive the car at my maximum; I felt confident, and I enjoyed driving the car throughout the race – I was able to push.
"With such little degradation from this year's tyres, it's enjoyable to be in the cockpit again. However, that enjoyment is less for us, because we are not fighting at the front.
"Our car is obviously not very competitive at the moment, so being able to keep the car in the points was a little surprising. At the end of the race, I had a problem that prevented me from finishing the race.
"It's disappointing to see we're not ready to fight at the front – we need to quickly make some further improvements.
Stoffel Vandoorne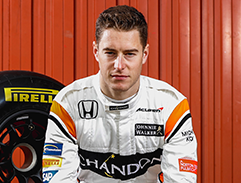 #SV2  MCL32-01
Started 17th (due to Ricciardo starting from pits)
Finished 13th
Fastest lap 1m29.440s on lap 53 (+2.902s, 15th)
Pit-stops One: lap 9 (20.635s) [Option/Back-Up]
"I had a very tricky race.
"At my pit-stop, I had to perform a full power-cycle of the car to reset it, which cost me time and position, and I also lost the dashboard readout for a while. Throughout the race, I was very busy on the steering wheel, making a lot of changes to the car's settings while trying to bring the car home.
"Nevertheless, after the tests in Barcelona, we didn't really expect to finish the race, so this is a little bit of a milestone today.
"We definitely don't have enough pace to compete with the cars ahead of us, so we need an extra big push for China, in a fortnight's time.
"We've had decent mileage all weekend; Fernando showed well in qualifying; and we finished the race, so there are positives to take away from this first weekend of the season.
"I think I probably deserve a slice of birthday cake this evening!"
Eric Boullier   McLAREN-HONDA RACING DIRECTOR
"The 2017 Australian Grand Prix won't be remembered as one of McLaren-Honda's finest hours, and indeed there are precious few reasons for us to be cheerful here in Melbourne this evening.
"However, I want to pay tribute to our drivers, both of whom performed superbly, albeit in very different ways. "Fernando's car suffered a damaged left-front brake duct early on, but he nonetheless drove a prodigiously impressive race, wringing every last tenth-of-a-second from a compromised car on every lap, and at one stage a points finish looked to be a possibility for him.
"Tantalisingly close to the end of the race, however, the damage on his car developed into a terminal problem, the floor having become irreparably broken, forcing him to drive back to the garage and retire. That was a bitterly disappointing end to a wonderfully spirited drive, but I guess that's racing.
"Stoffel had a dreadfully frustrating afternoon, losing his dashboard function early in the race – causing him to have to count his gearchanges both up and down in the absence of the usual on-dash digital readout – which problem we were able to address by bringing him in for an unscheduled system reboot.
"He soldiered on to the finish – and, although his afternoon was a difficult and unsatisfying one, the fact that he went the distance was a consolation of sorts. Indeed, bearing in mind that he's now driven the grand total of just two grands prix, I'd describe his performance as dogged and diligent: a very difficult job very well done.
"From here we'll return to Woking and Sakura, where our development work will continue with relentless intensity, with regard to chassis and power unit alike, in an effort to improve MCL32 for the Shanghai-Bahrain double-header in a fortnight's time."
Yusuke Hasegawa    Honda R&D Co. Ltd Head of F1 Project & Executive Chief Engineer
"We knew coming into the weekend that this race wouldn't be an easy one. But, despite a number of issues, I'm still happy with the progress we've made over the last weeks.
"Stoffel drove a determined race to the chequered flag, despite his issues, and Fernando once again drove brilliantly to extract everything from the car. It was disappointing for the team that he was unable to finish while running in the points, and with just five laps to go.
"Still, we take away some encouragement. Both of our drivers performed well in what was a challenging season-opening race, with retirements up and down the grid.
"We will now look ahead to the next race in China, and prepare together with McLaren to have a competitive race."