Featuring 45 vintage Mazda models, venue tells the story of an unconventional carmaker
First facility of its kind outside Japan opens to the public in Augsburg, Germany on 13 May
Augsburg / Leverkusen, 12 May 2017. Bringing alive the illustrious history of an unconventional carmaker from Hiroshima, the first Mazda museum in Europe – and indeed the only one outside Japan – will open its doors on 13 May in Augsburg, Germany.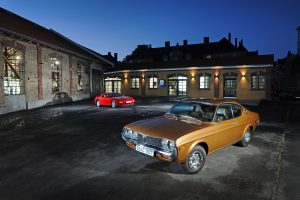 Frey's Mazda Classic Car Museum, a project from local Mazda dealer Auto Frey with the support of Mazda Germany, spotlights the carmaker's almost 100 years of defying convention. The centrepiece is an exhibit of 45 vehicles – vintage Mazdas officially sold in Europe as well as models only available elsewhere, including a number of rarities from the Frey family's extensive private collection. The facility, fittingly located in a refurbished Augsburg tram depot dating from 1897, is also equipped with an expansive event area, restaurant facilities and a gift shop.
"Uniquely impressive, the first Mazda museum outside Japan represents a dream come true for the Frey family to share with the public its one-of-a-kind collection of vintage Mazdas from around the world," commented Mazda Motor Corporation Executive Vice President Akira Marumoto. "Everyone at Mazda headquarters is very proud that the Freys are a part of our organisation and have created something so extraordinary."
The models on display, which include a 1967 Mazda Cosmo Sport, 1969 Mazda Luce RX87 and 1992 Mazda RX-7, the top-selling rotary powered model in history, demonstrate how long Mazda has been combining innovative technology with stunning designs in the name of driving joy. Other highlights include a 1960 Mazda R360, the company's first mass-produced passenger car, a 1962 Mazda K360 three-wheeled light truck, a 1966 Mazda Familia 1000 coupé, a 1976 Mazda 616, the first model officially offered in Germany starting in 1973, and the Mazda AZ-1, a distinctive mid-engined lightweight sports car from 1992.
The selection will change continually, too, with additional gems from the Frey's collection of 120-plus vehicles destined for rotation into the exhibit. Operators also hope the venue will become a hub for vintage Mazda club meetings and classic car events in general. Auto Frey has been a Mazda dealer since 1978 and currently operates three locations in the Augsburg area.
For more information, see: www.mazda-classic-frey.de/en.