Spa Six Hours 2019 ► Thank you and see you next year !
Le cru 2019 des Spa Six Hours était une nouvelle fois excellent et toute l'équipe de Roadbook Organisation tient bien sûr à vous remercier. Du mercredi au dimanche et malgré une météo mitigée, le succès a été plus que présent. Petits et grands ont pu replonger dans les plus belles années du sport automobile et sont repartis de Francorchamps la tête pleine de souvenirs. Que ce soit à l'Open Pit Lane, au Summer Classic ou aux Six Hours, on vous donne déjà rendez-vous à Spa en 2020.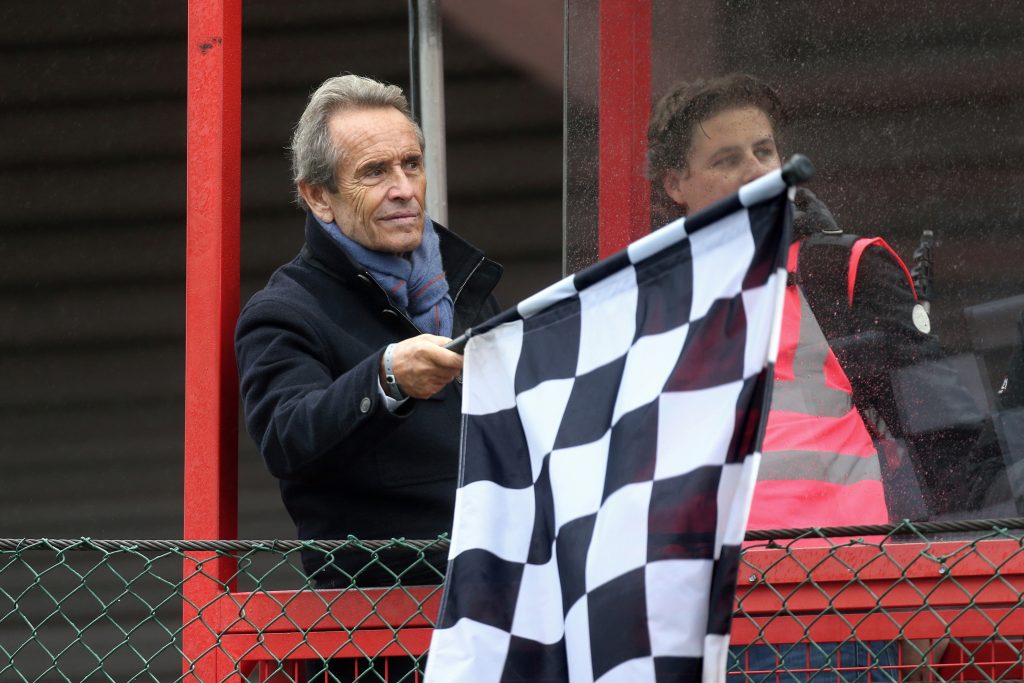 Spa Six Hours 2019 ► Thank you and see you next year !
Jacky Ickx au rendez-vous des passionnés

La grande fête des Spa Six Hours 2019, elle débutait dès le mercredi avec 75 voitures d'avant-guerres, de route, qui ont eu le privilège d'ouvrir la piste. Encouragé par le circuit, cet événement va encore évoluer en tenant davantage compte des spécificités des Pre War. Ce succès, c'était également celui de la Fédération Belge des Voitures Anciennes (FBVA) qui remettait le couvert le lendemain en accueillant encore 200 membres accompagnés de leur ancêtre avant diverses animations jusqu'au dimanche. Parmi celles-ci, l'hommage réservé à la victoire de la GT40 au 24h du Mans 1969 fut un très grand moment. Au drapeau pour le départ et l'arrivée, on retrouvait Jacky Ickx en personne dont la popularité est toujours aussi grande. Et dans le rôle de son papa, c'est Vanina qui marchait jusqu'à la fameuse Ford numéro 6 aux couleurs Gulf. 50 ans plus tard, elle remontait un impressionnant peloton, de 80 GT40 et GT de diverses générations, pour passer le damier en tête. Au volant des Ford, des Belges bien sûr mais aussi un Finlandais, un Canadien ou encore de nombreux Anglais… dont un qui aura fait amener sa voiture à Spa avant de rejoindre le circuit en train spécialement pour l'occasion. Magique !
 
Et ce n'est pas la météo qui a refroidi les ardeurs des suiveurs, loin de là. Finalement, elle n'a que très peu perturbé le week-end et on venait parfois de très loin pour vivre le meeting historique le plus prestigieux de l'année à Francorchamps. En salle de presse, on comptait 145 accréditations dont la palme revenait cette année à un journaliste australien. De 36 voitures à la première édition des Spa Six Hours, on en comptait encore plus de 600 le week-end dernier. Après les essais libres, les qualifications étaient passionnantes à suivre dès le vendredi et les Belges auront fait forts au niveau des Six Hours avec la pole de la GT40 d'Eric van de Poele devant celle de Nico Verdonck. En course, cela aura été un peu plus compliqué pour eux malheureusement mais ce n'en est pas moins une Ford similaire qui s'imposait. Sur 27 éditions, la GT40 signait une 14ème victoire aux mains de Walker/Griffits/Shedden devant la superbe Aston Martin DB4 GT DB214 de Friedrichs/Hadfield/Mallock. La Shelby Cobra des premiers belges De Latre du Bosqueau/Van Riet finissait sixième tandis qu'on appréciait également la jolie 11ème place (sur 98 classés !) du duo féminin Kyvalova/Chadwick dont la jeune seconde n'est autre que la première championne de la W Series.
 
A l'image des nombreuses autres séries présentes (voir ci-dessous), les résultats étaient nombreux et le palmarès toujours plus international. Assurément, l'édition 2019 aura eu très fière allure avec un public bien présent d'un bout à l'autre du week-end dans une excellente ambiance. De l'entrée gratuite pour les plus jeunes aux tickets en ligne toujours très accessibles en passant par diverses formules plus personnalisées et/ou professionnelles (Lounge Bar, Lunch Buffet ou encore Six to 6), les Spa Six Hours se destinent à tous. Quoi qu'il en soit, toute l'équipe de Roadbook Organisation vous remercie une nouvelle fois pour votre fidélité et vous souhaite une excellente fin de saison. Comptez sur nous pour vous retrouver dès 2020 à l'Open Pit Lane avant les Spa Summer Classic et une 28ème édition des Six Hours.

Spa Six Hours 2019 ► Thank you and see you next year !
RESULTATS
Spa Six Hours : Walker/Griffits/Shedden (Ford GT40-1er GTP+) en 107 tours Friedrichs/Hadfield/Mallock (Aston Martin DB4-1er GTS12) + 3 tours Ditting/Hancock (Ford GT40-GTP+) + 3 tours Hancock/Hancock/Twyman (Lotus Elan 26R-1er GTS10) + 4 tours Meins/Lillingston Price/Bentley (Ford GT40-GTP+) + 5 tours De Latre du Bosqueau/Van Riet (Shelby Cobra-GTS12) + 5 tours Gomes/Claridge (Lotus Elan-GTS10) +5 tours Count Oeynhausen/Verdonck (Ford GT40-GTP+) + 5 tours Hunt/Blakeney-Edwards/Wakeman/Grant-Peterkin (Jaguar E Type-GTS12) + 5 tours Fenn/Barclay/Stirling (Lotus Elan 26R-GTS10) +5 tours
FIA Masters Historic Formula One Championship
Course 1 : St. Hartley (GB-McLaren MP4/1) en 8 tours M. Cantillon (IE-Williams FW07C) +3"829 K. Tilley (US-Ensign MN177) +4"236 Course 2 : K. Tilley J. Wright (Shadow DN8) J. Folch-Rusinol (Brabham BT49C)
FIA Masters Historic Sports Car Championship O. Bryant (Lola T70 MK3B) en 20 tours J. Wright/A. Wolfe (Lola T70 MK3B) +1'00"544 A. et M. M Banks (McLaren M6B) +1'10"726
Gentlemen Drivers Pre-66 GT Cars J. Thomas/C. Lockie (Shelby Daytona Cobra) en 25 tours A. Wolfe/J. Hanson (AC Cobra) +12"668 J. et G. Pearson (Jaguar E-Type) +1'00"206
Masters Pre-66 Touring Cars C. Davies (Ford Mustang) en 20 tours J. Thomas/C. Lockie (Ford Falcon) +8"197 O. Hart (Alfa Romeo Giulia Sprint GTA) +11"791
Aston Martin Masters Endurance Legends
Course 1 : S. Tandy (Lola B12/60) en 16 tours C. D'Ansembourg (Lola Aston DBR1-2) +39"032 K. Lendoudis (Peugeot 90X) +39"082 Course 2 : N. Pastorelli/Hart (Maserati MC12) en 13 tours C. D'Ansembourg +22"965 M. Graf Von Oeynhausen/Sierstorpff (Audi R8 GT3 LMS Ultra) +45"060
Historic Grand Prix Cars Association
Course 1 : P. Horsman (GB-Lotus 18/21) en 11 tours A. Middlehurst (John Bowers) (GB-Lotus 25 R4) +37"218 B. Cannell (GB-Brabham BT1 1A) +45"100 Course 2 : R. Jolley (GB-Lister Jaguar) en 9 tours A. Middlehurst (John Bowers) +13"859 G. Fierro (ES-Maserati 250F 2523) +18"598
Woodcote Trophy – Stirling Moss Trophy D. et O. Hart (Lister Costin) en 17 tours A. Wood/W. Nuthall (Lister Knobbly) +47"532 R. Wills (Lotus 15) +50"085
Pre-War Sports Cars R. Tuluie (Menasco Pirate) en 11 tours G. Burnett (Alta Sports) +19"148 S. Darbyshire/E. Cameron (Morgan Super Aero) +53"171
Historic Sports Car Club
Course 1 : G. Hallau (Lola T3 10) en 10 tours R. et J. Beebee (Lola T70 MK3B) +16"676 T. Stoten (Lola T492) +1'09"086
Jaguar Classic Challenge R. Farrell/D. Coyne (Jaguar E-Type) en 16 tours M. Graf Von Oeynhausen (Jaguar E-Type) +12"651 J. et G. Pearson (Jaguar E-Type) +21"838
U2TC & Historic Touring Car Challenge with Tony Dron
Course 1 : S. Dance (Ford Capri) en 10 tours J. Thomas/C. Lockie (Ford Sierra Cosworth RS500) +1"482 L. et M. Goff (Ford Sierra Cosworth RS500) +5"277 Course 2 : N. et H. Whale (BMW M3 E30) en 10 tours S. Dance +1"855 L. et M. Goff +28"118